We appreciate everyone's help in getting the word out about our desire to adopt. For those that have volunteered to take some of our pass along cards and give them out we thank you. (If you haven't told us you would be willing to do this, but are willing just let us know and we can get some to you)
Now for a new way to help. If you have a blog or a website and would be willing to place a button on your site here you go.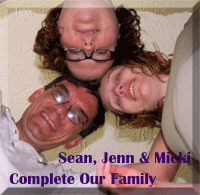 You can get the code for the above button in the text area above. Just copy and paste it into your site. It will look like the button above.
Most importantly please continue to pray for us. That is what is needed most. We know our family will be added to in the Lord's time.